Differentiated · Profitable · Transformational
Uplift your offering by joining our exclusive VirusTotal MSSP program
Differentiate and enrich your services with world-class crowdsourced intelligence. Become an MSSP partner, broaden and augment your portfolio to drive significant revenues.
View MSSP partner package details below or watch the one minute video.
You are not licensing a product,
you are making an investment
Beyond licensing a market-leading threat intelligence suite, the MSSP program dynamics ensure that VirusTotal is invested in growing your business.
Elevate & differentiate your offering with VT AUGMENT
Upsell existing customers and supercharge your offering by incorporating the VT AUGMENT widget to display VirusTotal reputation and advanced context in your services in a compliant and revenue-generating manner.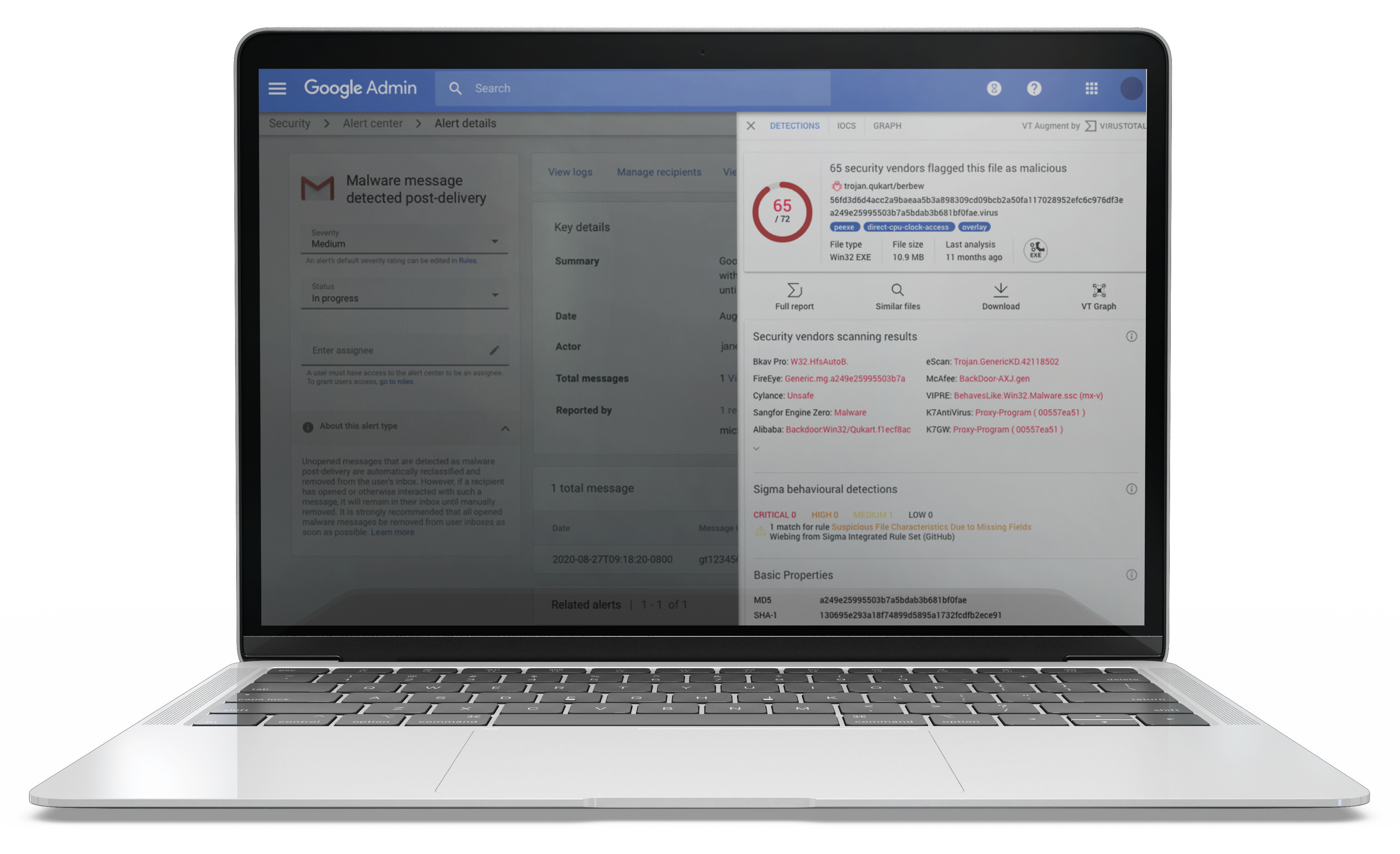 Independently resell a license to operate the integration or bundle it into a SKU. Increasing margins with increasing sales.
Which MSSP package fits you better?
Unparalleled threat context and crowdsourced internet-wide visibility combined with Google's planet scale infrastructure and instant search capabilities.
STARTER

Improve investigative capabilities
Reactively resell VirusTotal to answer your customer needs
Build trust leveraging VirusTotal's partnership
ENRICH & RESPOND

Systematically use VirusTotal in Incident Response
Automatic alert triage, do more with the same staff & tech stack.
Proactively resell VT API licenses to power your VT AUGMENT integration.
Significantly increase brand visibility.
360 ELEVATE

Unlimited usage, forget about quotas and think about use cases
Automatically enrich events and conduct proactive threat hunting
Track adversaries and threat campaigns, preventatively block IoCs
VT ALERTS included for your customers
Create a bundled VT AUGMENT SKU, upsell your base and close larger deals
Proactively resell VirusTotal and generate a major revenue stream
Exclusive enablement & trainings
Leverage VirusTotal's global reach at full steam
Why VirusTotal?
Preventative security operations with rich, actionable and close to real-time threat intelligence
Unmatched threat visibility.